While elegance is most often associated with high-heeled shoes and sandals that elongate the leg, increasingly women across the nation are turning to flats. There are numerous reasons for this trend; perhaps the most obvious is the days of dowdy flats that made one look poor have long ended. In their place, women are buying stylish flats that would look great for any occasion from meeting the Queen to going out for lunch with a group of good friends. Second, flats are more practical for day-to-day use, going to work, the grocery store, or doing any other task one might want to do in the course of a day. They are also easier on your body in the long run. If you are unsure on what type of flats you might like, we have some tips, as does Marie Claire UK with 30 flat shoes you will want to swap your heels for.
Go for Contrast – Red Flats with a Yellow Dress
Bold contrasts are a great way to highlight your newest pair of flats, and make your dress or outfit pop. A great pair of red flats looks great with a yellow or white sundress, or even a pair of jeans. As a style it says conservative, yet stylish, put together yet fun.
Flat Cage Sandals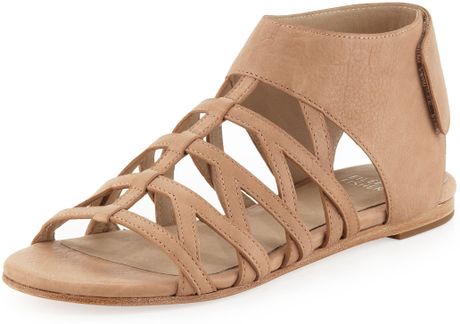 Where would women's shoe fashion be without a little whimsy? Fendi has thrown a wrench into the definition of flat with its latest style the flat cage sandal. As far as shoes go, it says summer and fun, yet would not look out of place on the runways of Milan. Speaking of Italians, they are known for making sure their shoes are always timeless and stunning throughout the ages, as shown here by Stylist.co.uk.
Leopard Print
Leopard print is always in style. There is something about it that says both antiquity, and natural. It speaks to many because it has a muted quality when it is being worn, and can be easily matched to a range of warm colours without distracting from the whole outfit. In some circles this popular print has been re branded tortoise shell.
Lace
A little leather and lace never hurt anyone. Increasingly designers are turning to lace to decorate the outside of their flat shoes. These shoes have a hint of antiquity with an element of modernity in the colours that have been chosen for the designs. Lace shoes strike a nice contrast with a modern outfit, and compliment classical outfits with lace and frills nicely.
Nudie
Scandal and nudity are two things most people think of when they hear the term nudie. But there is a reason for the popularity of nudie shoes, flats or otherwise. The biggest amongst them is they blend in with a woman's natural skin tones. This results in the shoes almost completely disappearing from the view of anyone who the wearer might come into contact with. The end result is zero emphasis on the footwear and 100% of the attention focused on the outfit. If you are wearing nudie shoes it is critical your outfit look